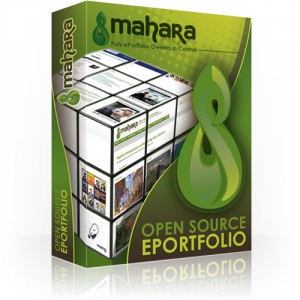 Lets get one thing straight – I love Mahara.
Unfortunately I love it in the way a parent loves a child who has gone off the rails and ended up doing five to ten for dealing crack. Or maybe got a job in advertising.
I feel this way because, like many of these unfortunates, I look at Mahara and I think that, although it has its flaws, it is also largely misunderstood. If only people could see it how I see it then at least they'd appreciate it for what it is rather than constantly turning the other way to check out its older, more popular and more intelligent sibling – Moodle.
But instead, many look at it as an oddity – something which duplicates some of Moodle's features, doesn't really seem to fit in properly, and for the harsher critics out there (and believe me I've heard them) is developmentally dead in the water, a forgotten outcome of a half-realised concept.
So why do I keep the faith in Mahara?
Well, a couple of reasons, which I'll do my best to articulate here.
Lets start by stepping back and considering the maturity of the ePortfolio market, and indeed of the whole concept of ePortfolios.
Learning Management Systems have been around forever, are well established and understood, and have even been pronounced dead more than once (which I guess means I've been dealing with zombies for the last few years) – in short, they are a very mature market. Contrasting this is the ePortfolio market, which is still something that many are grappling with. If you need any evidence of this then check out the summary section of the (now complete) Australian ePortfolio Study Report, in which there is a considerable amount of effort put in to defining what it is we mean when we talk about an ePortfolio (as well as how to spell it). Whenever I talk Mahara to a group of ePortfolio noobs, I can sense them trying to work out how it fits into their understanding of learning technologies. Invariably I get asked by some clever individual why they need a tool like Mahara when they already have WordPress, LinkedIn, YouTube, GoogleDocs and DropBox accounts – and to be honest I have to concede that a central ePortfolio tool isn't necessarily for everyone.
It is little wonder then that the growth of ePortfolios in the market I work in (mainly Australian Higher Education) has been steady, rather than overwhelming. Will it ever really take off? I hope so.
Enough excuses though – what is the selling point of an ePortfolio, and specifically Mahara?
Firstly, check out the presentation below, which I gave last year for work, and that is one of the rare times when I look back and think 'yeah, I nailed the main points of what I was trying to get across right there' rather than 'God, if I had my time again I'd do that way different'.
Getting the message across
So this is all good, but lets say you're a Mahara trainer, like I am occasionally, trying to get this message across to a room full of people who've never seen an ePortfolio tool before?
In the past, I fell into the trap that many technology trainers probably fall into, which is to take a feature-by-feature approach to showing others how to use a tool, in this case Mahara.
'Today I'm going to show you Mahara, so we'll start at A and work through to Z, then you can go home.'
Brilliant, cutting edge way to teach people stuff there Drex.
It was on the plane over to see a group of folks brand new to Mahara that I looked at my previous session plan and thought to myself 'God, if I had my time again I'd do that way different', and so like any half decent trainer would do, I chucked the whole lot out and started again.
I thought to myself, how should I be presenting this to the punters in a way which reflects, roughly, how they might use Mahara? I ended up scribbling down some notes which looked like this:
The most important bit in this is really the diagram, where reflection is the central concept in the use of an ePortfolio.
Reflection.
Stopping to think about what it is you're doing.
So why not run the training session in a way which kept on returning back to that reflection step? Why the hell not.
So I ended up making a prettier (and slightly modded) version of the diagram I sketched, as follows:
The training session went along the lines of:
Check out a feature (I started with group collaboration);
Head to one your blogs in Mahara to write a short reflective post about how you could use that feature in your teaching world;
Check out another feature;
Write another short reflective post about that feature;
Check out another feature;
And so on…
By the end of the session, I hope that the participants at least walked away with not only an understanding of Mahara, but also some reflective ideas on how they could use the tools within Mahara to improve their teaching practice. It wasn't perfect, but it was a starting point, and most importantly (for me) it used Mahara for something that it has been specifically designed for – to reflect on what you're doing, and how you could do it better.
Give it a try next time you run a training session in ePortfolios – and if you're using Mahara then feel comforted in the knowledge that you're using it for something it was designed for.