As you may know, I've been a bit like a dog with a bone about two topics in particular over the past year or so.
The first has been Moodle's new file management system since the introduction of Moodle 2. The second has been the use of Mahara in partnership with Moodle, and in particular the integration points (like I showed in my last post) that will make the combination more of a winner.
My focus with Mahara has usually (and predictably) been on using it as an ePortfolio tool – until now.
This all came about because I was trying to think of the best place to share a video around at work. I didn't want to put it into a Moodle course 'silo' as I was pretty sure I'd want to use it in multiple places, but at the same time I didn't have a genuine content repository to store it in. Then I wondered if it would be smarter to store it in Mahara – and bang, it hit me – why not use Mahara as the file storage area?
Think about it like this:
The problem with Moodle in terms of content re-use is that it stores its content in course silos, so I can't link to a piece of content from multiple courses without using an external repository;
Mahara not only supports the building of ePortfolios, but it also supports collaboration spaces, which are structurally separate from the course-centric structure in Moodle, so I don't have to have a one-for-one relationship between my Moodle courses and my Mahara groups;
Within Mahara's groups area, users can upload and store content, as well as creating pages of content, and sharing these pages outside of Mahara through the use of 'secret links'; and
Moodle can easily display web pages embedded in one of its content pages – all it needs is a URL.
If this all sounds complex, then check out this video which should make it a bit clearer.
A quick diagrammatic representation of how this is structured can also be given as follows: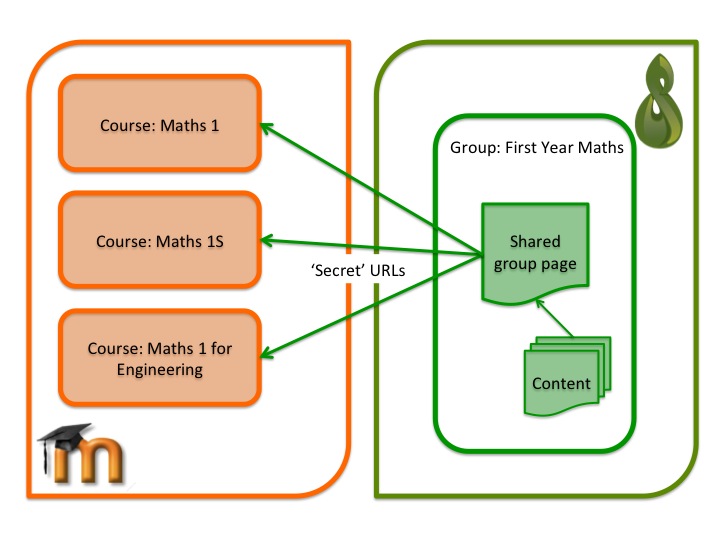 So what is the good, bad and ugly of using this method?
The good – it is a way for those using both Moodle and Mahara to set up collaboration groups in Mahara which reflect (for example) a faculty, and who want to re-use content across multiple Moodle courses but who aren't ready to invest in a complete content management system such as EQUELLA.
The bad – Mahara isn't a content repository, at least not in the same sense as something like EQUELLA is. If you're looking for version control, copyright management, sophisticated access controls, workflow tools and all the other things which you will get in a 'proper' content management system, then this won't light your fire.
The ugly – the method is manual, and relies on cutting and pasting links to the private view. In a perfect world this would be accessed via the Repository API – but for now it is a manual process.
I'd love to hear people's thoughts on this and whether or not it gives another possible solution to the challenges of breaking down Moodle's course silos for those who aren't lucky enough to have access to a 'genuine' content management system. I'm actually quite filthy with myself for not twigging to this earlier, I really should have thought of this about a year ago.
Bouquets and brickbats welcome 🙂