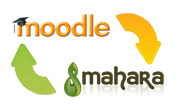 It seems like far more than a year or so ago that I wrote my previous post on how Mahara views could submitted for assessment in Moodle 1.9. Since then we've had the long awaited release of Moodle 2, a few releases of Mahara, and a whole bunch of other things which have distracted my attention from making noise about how much I wanted this feature to be updated for Moodle 2.
At last, the wait is over.
Part of my not-so-new-any-more role as Director of Consulting at NetSpot lets me advocate for the popular changes that I hear about from our clients and the broader community, and the ability to have a more seamless integration between Moodle and Mahara has been one which I've heard about many times from our clients who are using both products.
It all came to a head at a recent conference when a lecturer from a Moodle using University said to me:
If the view submission integration between Mahara and Moodle was updated for Moodle 2 then it would be the feature which would set these two apart from any other LMS/ePortfolio combination on the market for us…
Enough was enough, and so a few emails and phone calls later, with the help of Kristina Hoeppner and Richard Mansfield from the Mahara development team at Catalyst IT (who had already funded the bulk of the project), and some top-up funding kindly provided by NetSpot (thanks to Allan for his support on this one) and Pukunui Technology to finish off the development work to upgrade the 1.9 code and the integration has now been released to the community. As Moodleman has pointed out – this is a neat example of where three Mahara Partners/Moodle Partners have worked together to help a great idea make it to reality.
So what is so good about this integration? Check out the video below and you'll see.
I can see huge potential for this feature to be used by any educational institution wanting to use Mahara as a portfolio assessment tool, while also allowing it to store result information within a student's ePortfolio for safekeeping where they can use them as they please.
This to me now finishes the second of three killer features of the integration:
The first arrived with Moodle 2.0 with the ability to push content from Moodle into Mahara.
This is the second – the ability to submit Mahara pages (formerly views) for assessment in Moodle.
The final nail in the coffin will be the ability to browse for Mahara files through the file picker within Moodle – something which needs your vote in the Tracker to keep near the top of the new developments list.
Installation instructions and links to the code can all be found on the Mahara wiki, and if you're coming to the ePortfolios Australia Conference next month then come and see me at the Mahara booth and I'll show you a live demo and answer any questions as best I can – or head over to the Mahara Community forum about the integration and ask the developers directly.