Eyjafjallajokull – a name I still can't pronounce, even though it has changed the way I view air travel forever. I'm calling it 'the day the world got big again', since all of a sudden it made me realise ust how much we take air travel for granted, and how damned far it is from the UK to Australia. For those of you who don't know, I've been stuck in the UK after what was a fairly disastrous attempt at attending the UK Moodlemoot last week thanks to the plumes of volcanic ash which shut down UK airspace for the best part of a week. As soon as the reality hit that my flights home had been cancelled I started the frantic task of working out how to get home – along with another 150 000 stranded tourists…
Regardless of whether I sat tight and hoped that the ash cleared or attempted to head down to Madrid by train and catch a flight from there one thing was clear to me – I'd need to submit an insurance claim at some stage to get back all the significant amount of additional money I was spending to get by as I tried to find a way home. When I first phoned up the travellers insurance folks at Travel Insurance Direct (who I must say have been awesome throughout this whole thing), they made two things very clear – that I needed to make 'reasonable efforts' to keep the costs down, and that I should keep as much evidence as possible to back up the claim when the time came. I started grabbing the receipts I'd already incurred and tried to work out how I should keep them all together, and I realized that I already had what in theory should have been the perfect answer right in front of me – Mahara.
One of the biggest functions which an ePortfolio should serve is to collect evidence, so it seemed natural to use my Mahara account to use as a collection point for the evidence I needed for the insurance claim – lets face it, if an insurance claim isn't a type of assessment then I don't know what is! Besides, I had some time to kill while waiting for a way home, so even if it turned out to be painful then it was no great loss – at least I had my stuff in one place somewhere for later use.
So I started, and looking back I inadvertently used a fairly common process in terms of using an ePortfolio, namely to collect, reflect, organise and share my content.
Step 1 – Collect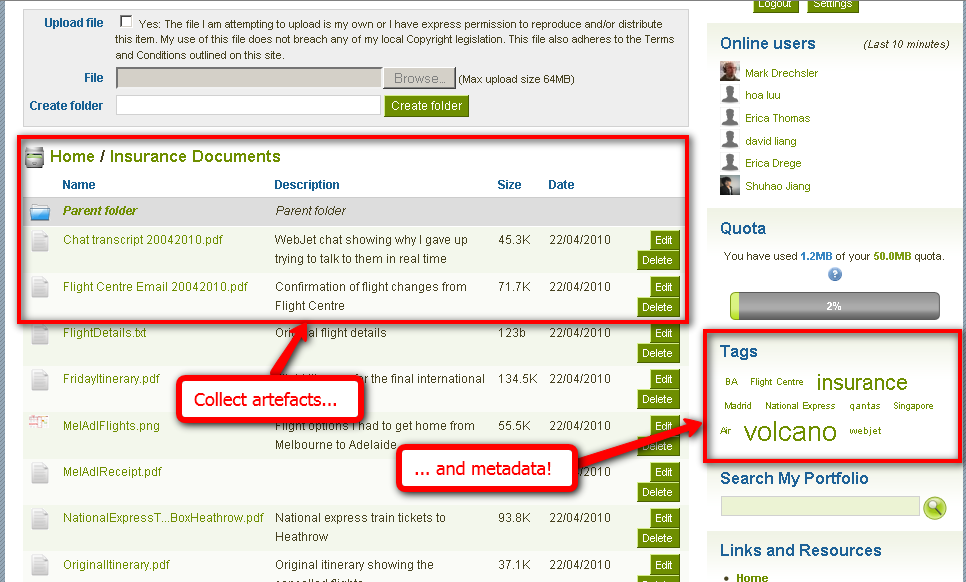 The first step was to grab as much documentation as I could, so I started printing documents to PDF format using CutePDF and uploading them into a folder within Mahara that I created specifically for this information. It did take a while to remind myself to add metadata in the form of tags and descriptive information to the artefacts, but once I got into the rhythm of it I was fine. After a while I started to collect a fairly comprehensive set of documents (which I'll complete when I get home and get access to a scanner for the hard copy stuff).
Step 2 – Reflect
Not only did I need my artefacts, I also needed to add context to the raw information, so a blog seemed to be the simplest way to go about this. I was told it was critical to explain why I had gone for specific travel options in particular and how I was balancing the need to get home with their requirement to keep the costs to a minimum, so being able to explain how some of the costs came about was critical and the blog was perfect for this. The nice thing about Mahara is that it supports multiple blogs, so I created a blog specifically for the claim and started adding posts bit by bit as the story unfolded around the artefacts.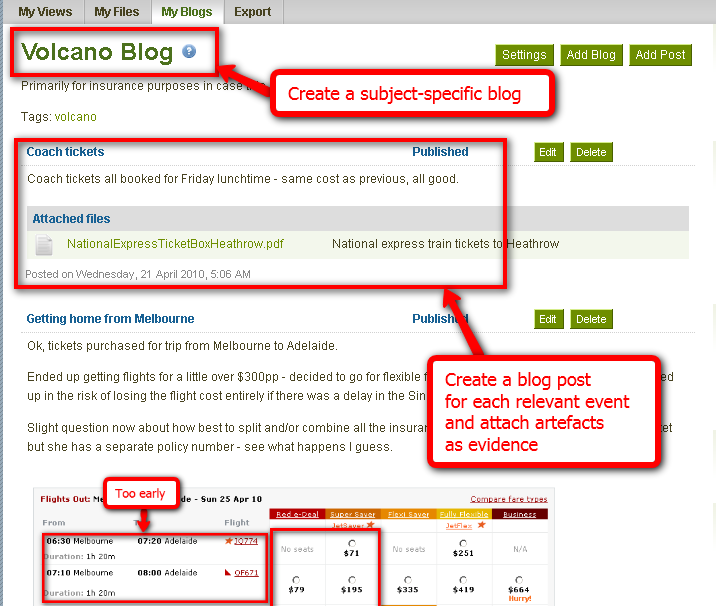 Step 3 – Organise
Once the information was coming together, I needed a way of pulling it all together, which is the perfect situation to use a Mahara view, so I added a view which had some personal information as well as a folder of all documents and the blog in its entirety – which is going to be more comprehensive than anything I could cobble together after the fact, and shows a clear, sequential story of how I tried to manage the situation and get home.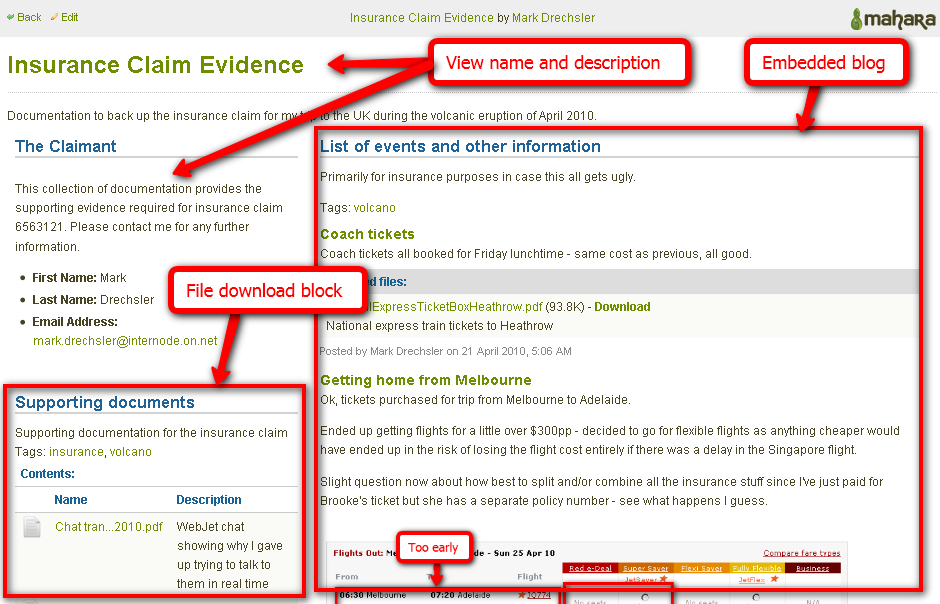 Step 4 – Share
Once I had it all together I needed a way to submit it to the insurance company, so enter the 'Secret URL' function in Mahara. Create a random URL and use it to submit on the electronic documentation to the insurance company.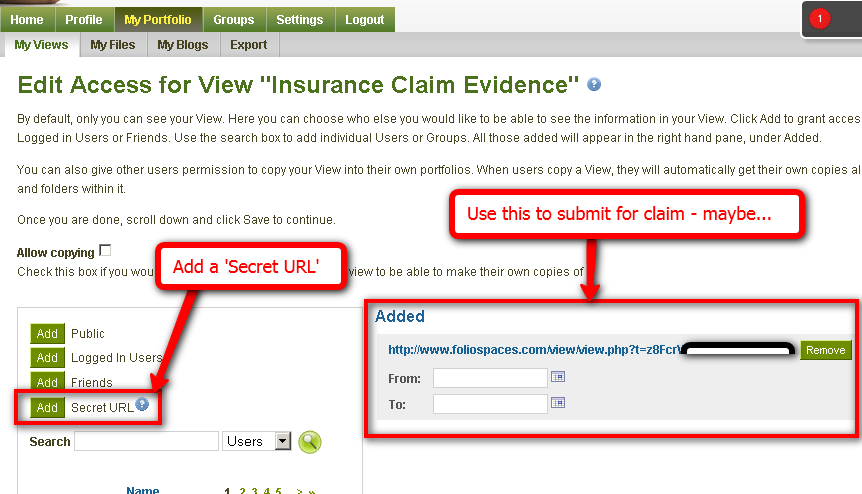 Conclusion
I struggle to decide whether this is a really neat use of Mahara, or an indictment of how tragically sad my life is that I even contemplated using an ePortfolio tool to submit an insurance claim. Maybe its a bit of both. I can say that I didn't wake up that morning thinking of ways to use Mahara – it was more that I had a problem (and a common one right now for many people affected by Eyjafjallajokull) and Mahara seemed like the easiest solution.
Will the insurance company accept the claim if I submit my evidence as a link? Who knows – but even if they don't then I'll just print the whole thing out, sign it and post it in and I will still have a sequential, complete record of what I had to spend to get home. Sorted. I hope this doesn't increasae all my future life insurance quotes, that would be unfortunate and somehow I feel like that's what will happen.
PS a thousand thanks also to the lovely David and Di Newport-Peace who put us up at their place in the beautiful village of Box, Wiltshire – the best thing about being stranded was getting to see more of you guys – every ash cloud has a silver lining 🙂