As most in the Moodle community know, 2010 was the year of Moodle 2.0, the release that redesigned a whole bunch of internal gubbins within Moodle, took twelve million person hours to complete (or something like that anyway) and is now ready to act as the launching pad for a whole stack of new exciting developments. The Roadmap for 2.1 (scheduled for June 2011, which is just around the corner) says that HQ will be '…refactoring and modernising what we have (based on community feedback in the tracker and forums)', which is great news for some of the tools which could really use an update like the Workshop had for 2.0 – like the forums for example.
For me though, I often wonder if the things that I personally think are important, and that tend to get raised on a regular basis from clients, are representative of the broader desires of the Moodle community. Because of this, I thought I'd put together my Top 10 list of things I'd love to see sorted in 2011, as well as what you can do if you agree (or disagree) with me.
Caveats
Note that I've only included things which are self-contained, relatively well defined, and already in the Tracker as things which others have identified as being desirable. This means that things like a revamp of the Lesson module and improvements to Moodle 2.0's file management have been deliberately excluded, as well as my own pet want of being able to suck files from Mahara directly into Moodle. Enough caveats, on with the list.
My Top Ten
Number 10
Gradebook auditing. When a teacher updates a record in Moodle's Gradebook, then Moodle tracks who made what changes in its logs – just like it should. The problem is that there is no way for a teacher to check the audit trail of who modified what in the Gradebook other than running a database query. A small improvement that would be great for those who rely on being able to track changes of grades.
Number 9
Automatically update max and min values in the Gradebook for calculated fields. Its only people who are creating custom calculations in the Gradebook who will hit this one, but at the moment if you set up a calculation then the totals don't automatically update to reflect the new total (based on the max and min values of the composite columns). Its not a big deal, but gee it would be nice if this was automatic, not only from the ease of use, but also to double check my calculations!
Number 8
Allow wiki creation from a template. Don't get me wrong, I am very happy with the 2.0 wiki compared to the one in 1.9, but one critical (to me) element has not been re-implemented yet – the ability to create a wiki from an HTML template. For example, if I want to set up a separate groups wiki which gives each group a default home page (for example, a template of a project plan which they need to complete in their groups) then I have to edit each start page individually, which is a royal pain. The old way of doing it in 1.9 which allowed the attachment of an HTML template which would then be used to automatically build a starting page was, albeit a little clunky, a great timesaver and spawned many 'lightbulb' moments in my training sessions, and I can't wait to have it back.
Numbers 7 & 6
Add and delete topics in the course edit view rather than having to go and edit the course settings. In a recent meeting with a bunch of clever folk who are far better versed in UX than I am I thought about this as an example of something we've always been able to do, but also something that we should be able to do two clicks rather than ten. this would make life far easier for me when I'm developing courses in Moodle, and I am surprised that it never seems to get more airplay (or perhaps its just me).
Number 5
Ability to copy a resource/activity. Another one that we've all had to work around for years and never complained too loudly about, but surely this must be a good improvement to make in terms of ease of use.
Number 4
Multiple file uploads. Yet another one where there is a way of doing it, and most people are very used to it, but wouldn't it be nice to be able to bulk upload files rather than having to zip and unzip…
Number 3
Rubric assignment marking. Yes, I do now have a work around in the form of the most excellent Workshop activity, and I do have outcomes which are similar in concept but not quite what I'm after here. Wouldn't it be nice to be able to have rubric marking that rolls up to a total score, and that I could use in all assignment types? Or even better, in all assessable activities?
Number 2
Group assignment submission. Yes, I know there can be curly business rules around participation, mark allocation and the like, but just give me something where I can mark one assignment and have the grade automatically distributed to all students in the group, even if it is simple and excludes a bunch of things that I might want to take into consideration in a more complex tool. Please.
And finally…
Number 1
'Stealth activities'. Most who have used Moodle know that a critical skill in designing a course is to avoid the 'scroll of death' which can occur by loading too much content into a course without due care. Resources/activities which can be accessible but without the link being visible from the course page (aka 'stealth activities') would give course designers one more option in terms of how to avoid this design challenge rather than having to resort to the contentious n-1 method of achieving this goal when all other design options are exhausted.
So what can you do about it?
One of the things I try and espouse wherever I go to talk Moodle with people is that to make the most of Moodle you need to move from a passive consumerist mentality to an active participatory mentality (I just made those terms up by the way, so please tell me if I've made a faux pas on their meaning from some other field). In other words, don't sit back and grumble about what Moodle can't do, get involved in the community and help become part of the solution!
This doesn't mean that you need to go out and start cutting PHP code to improve Moodle (although be my guest if that's your thing), but it does mean that you should get involved in the Moodle community to have a voice in what you think is important, share your ideas and make suggestions for improvement.  I get frustrated when I speak to folks who have used Moodle for a while, found things that drive them nuts, but who won't get into the community and make some noise about it. I'm not suggesting that raising hell in the forums is a guaranteed way to have a change implemented quicker, but I will say that in my experience, the more discussion around a contentious point there is, the more attention it tends to get. The 2.0 files model, as an example, seemed to me to get loads more attention once the core development team saw that enough people were talking about it to realise that there was more work to be done (and yes, there is still more work to be done, but that's another story).
The best place to cast your vote is in the Moodle Tracker, which is like a giant directory of all the proposed and completed changes in Moodle. Follow any of the links in my list above and you'll get taken to the relevant change requests where you can vote for them if they are things which are important to you. You will need to create an account, but once you've done this then you can:
Log your own requests for improvement, or bug reports;
Vote on changes that you think are important (and hopefully see them end up in the list of popular changes where they will have a better chance of grabbing the attention of the core developers);
Get notified about when a change request you're interested in is actioned or implemented; and
See what other changes are currently being implemented.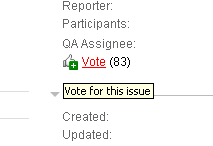 By casting your vote in the tracker you are putting your opinions squarely in front of the core development team, and the more people who make noise about an issue the more chance there is that it will be given proper consideration by HQ as a genuine need of the community.
The saddest thing for me is that based on past experience virtually nobody will sign up for an account after reading this and vote for the things they think are important – if I could work out what the magical formula is to get end users more involved and having a say then I'd bottle it and sell it.
So in closing, if you'd like to make my night then sign up, vote for something, and leave a comment here for me to tell me that you have had your say – I'm not fussed if you disagree with the things I think are important, just as long as you get in there and have a say on the things that are important to you. If you need something to motivate you then maybe the clip below will help 🙂