As some of you may know, my role for the last six months has been setting up a new student services centre at Flinders University. This new service, called Flinders Connect, opened its doors this week to students, so I thought it would be an opportune time to write a brief reflection on the week in relation to the psychology aspect of the UCE152 MOOC.
We opened our doors during the quietest possible time of the year – the mid semester break, when the majority of current students are not on campus. This has allowed the week to be about finding things that didn't quite work as planned, staff learning about new systems and processes, making some last minute system refinements, and preparing for the start of Term 4 next week.
This has also afforded me some time to sit in the service area and watch the user experience first hand, watching students enter the space and try to work out what to do. It is worth mentioning that the service area is located in a much larger open space, and when a customer first walks in, this is what they see.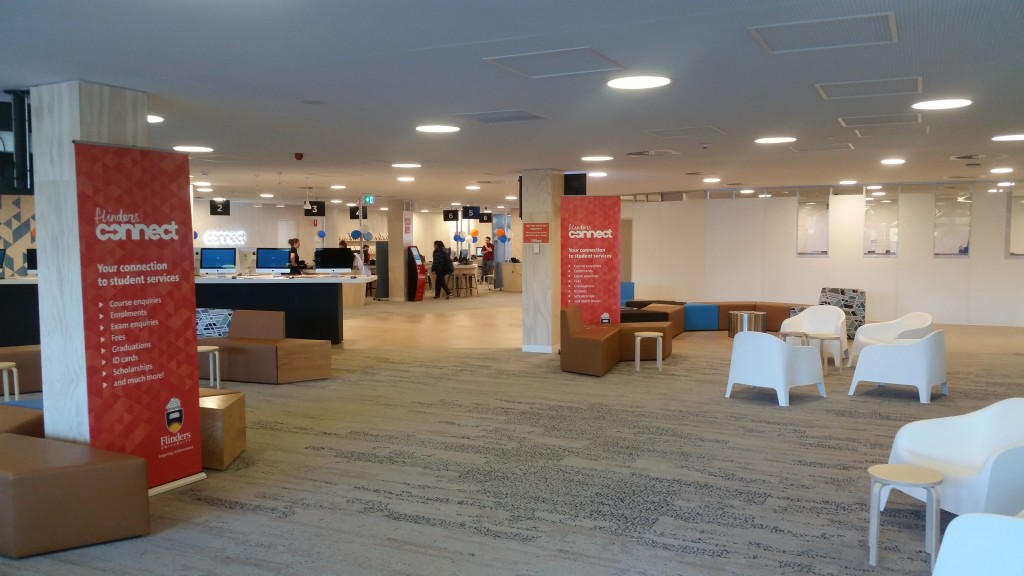 Its been interesting watching how students have coped with this, and their behaviours have fallen into one of three broad types that I've seen:
Scanning the environment, seeing the signs saying 'start here' (which is just left of centre in the middle distance, which is a problem in itself), and heading to the service kiosk;
Scanning the environment, looking for a person who looks like they are available, and heading for the person; or
Freezing on the spot, and not really knowing what to do next.
If I was relating these three behaviours to emotions, they would respectively be something like:
Confidence, assertion.
Apprehension, uncertainty.
Fear, panic.
Although I am no psychologist, it has been interesting to watch these behaviours, relate them back to what constitutes a good customer experience, and force me to think about the kind of customer experience we want our students to have.
Ultimately, while it would be wonderful to assume all students will end up confident and assured, we also want to make the service as welcoming as possible, particularly for those who are less confident. For our opening week, we will have 'student ambassadors' acting as concierges for all students coming to get service, so we will have plenty of support for those new to the service (which is pretty much everyone). Beyond that it will be an interesting question to see if other support measures (such as additional signage or a change in location of the ticketing kiosk) combined with the overall student population getting used to accessing the services will be enough for us to not need concierges, or perhaps to only need them at peak periods, or at the start of the year.
From a psychology perspective, I think the aim for any student walking into the space is to get them to the service they need with the minimum stress, and I think this probably equates to reducing the cognitive load as much as we possibly can. For a student who is probably focused in their mind on solving a particular problem, we need to make sure that they have to think as little as possible to get connected to our services.
I'll return to this post in a few weeks and see how things have changed, and in the mean time I'm very open to comments from any of our customers on how we're doing. Remember though – this is a new service, and we're learning too. We'll do our best.